Student Life >> Browse Articles >> Social Life
Back to School in the 90's: What Was Hot?
By Lauren Bayne Anderson
June 17, 2010
Fashion:
When you think of 1990's fashion what do you think of? Leather everything? Bright red matte lipstick? Peace symbols?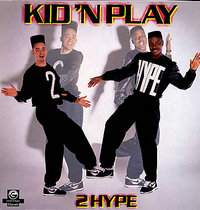 Kid n' Play introduced the high top fade hair style to 90s culture.
If you said yes to any of that, you'd be right. But the 1990's had several major fashion themes that made the decade: grunge, goth and hip hop.
Groups like Nirvana popularized the grunge look, which consisted of: A. always looking like you just woke up without washing your face or combing your hair and B. lots of flannel shirts, flannel shirts and more flannel shirts.
Goth was all about black – black clothes, black knee high boots, black hair, black nail polish, black eye liner…
And the emergence of a relatively new musical genre hit the mainstream: hip hop. And with it, brought its own fashion trends. Who can forget Cross Colors (forest green, royal blue and bright red on the same shirt), Africa medallions, "high top fade" haircuts (i.e. Kid n'Play), "New Jack Swing" and the emergence of baggy clothes (sometimes worn backwards!)
And Believe it or not… these trends are back, just like 90210! Did you know that many of the popular styles today got their start in the 1990's? Leggings, goth (think Twilight), Capri pants and belly button piercings. Wow.. everything old is new again!
---