Student Life >> Browse Articles >> Social Life
Back to School in the 90's: What Was Hot?
By Lauren Bayne Anderson
June 17, 2010
In 2010, it'd be the health care bill and the BP Oil Spill. But what was making headlines in the 1990s? Think end of the Cold War and South African Apartheid and the beginning of squabbles with Iraq.
In the News in 1990…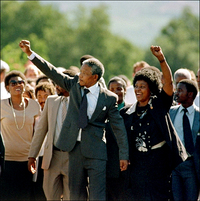 Nelson Mandela was freed from a South African prison after 27 years behind bars. The end of Apartheid in South Africa was a major turning point for the country and the world.
In Washington, D.C., Mayor Marion Barry is arrested for drug possession in an

FBI

sting.

Nelson Mandela is released from Victor Verster Prison, near Cape Town, South Africa, after 27 years behind bars.

James "Buster" Douglas knocks out Mike Tyson to win the World Heavyweight Boxing crown.

East Germany holds its first free elections. East Germany and West Germany reunify into a single Germany.

The Space Shuttle Discovery places the Hubble Space Telescope into orbit.

The World Health Organization removes homosexuality from its list of diseases.

U.S. President George H. W. Bush and Soviet Union leader Mikhail Gorbachev sign a treaty to end chemical weapon production and begin destroying their respective stocks.

Iraq invades Kuwait, eventually leading to the Gulf War.

Tim Berners-Lee publishes a more formal proposal for the World Wide Web.

Soviet troops occupy Baku, Azerbaijan, under the state of emergency decree issued by Gorbachev and kill over 130 and wound over 700 protesters for national independence.
Compiled from Wikipedia.org.
---