Student Life >> Browse Articles >> Social Life
Back to School in the 90's: What Was Hot?
By Lauren Bayne Anderson
June 17, 2010
All about Lady Gaga, Drake and the Black Eyed Peas? Here's what high school students in the 90s were rocking out to.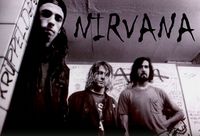 One of the top bands of the 90s, Nirvana may have been single handedly responsible for spawning the "grunge" look.
VH1's 100 Greatest Songs of the 90s List:
Nirvana – "Smells Like Teen Spirit" (1991, #6 US)

U2 – "One" (1991, #10 US)

Backstreet Boys – "I Want It That Way" (1999, #6 US)

Whitney Houston – "I Will Always Love You" (1992, #1 US)

Madonna – "Vogue" (1990, #1 US)

Sir Mix-A-Lot – "Baby Got Back" (1992, #1 US)

Britney Spears – "…Baby One More Time" (1999, #1 US)


TLC

– "Waterfalls" (1994, #1 US)

R.E.M. – "Losing My Religion" (1991, #4 US)

Sinéad O'Connor – "Nothing Compares 2 U" (1990, #1 US)
---