Obama Promises to Show Students the Money
"There are few things as fundamental and necessary to American success than higher education." -- President Barack Obama
Kathryn Knight
April 24, 2009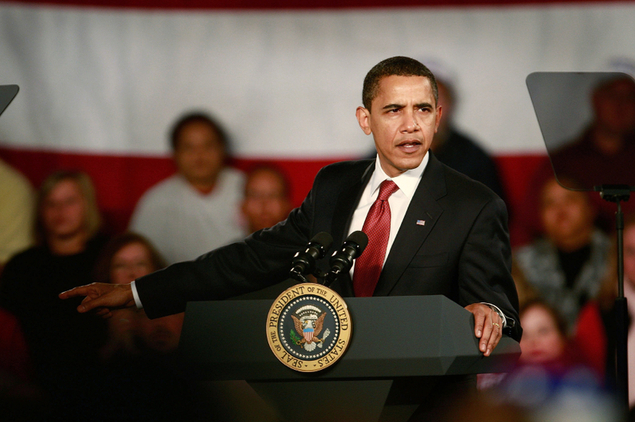 Stephanie Stevenson's parents always encouraged her to pursue higher education, saying it would not only make her a better person but a better citizen. Stevenson has taken this to heart by achieving high grades at the University of Maryland and plans to gain a Ph.D. in Public Policy and Urban Planning. Today, at a White House Press Conference on Higher Education, Stevenson attributed her access to higher education because of the Pell Grant and other federal and state funded scholarships.
At today's Press Conference, President Obama stressed that "there are few things as fundamental and necessary to American success than higher education. The best job qualification you can have is a college degree or advanced training." However, college tuition has grown ten times faster than typical family incomes. While President Obama challenged colleges to lower tuition costs, he's also made sweeping proposals of reform.
Under President Obama's plans for education, the first point of reform is to give millions of families a $2,500 college tax credit. The American Recovery and Reinvestment Act of 2009 also expanded the Hope Scholarship tax credit from two years to four, increased the income phaseouts and made the tax credit partially refundable for the 2009 and 2010 tax years. It also is no longer subject to the Alternative Minimum Tax. President Obama is proposing to make these changes permanent.
Congress also increased the maximum Pell Grant from $4,731 in 2008-09 to $5,350 in 2009-10, the largest dollar increase in the history of the Pell Grant program. President Obama plans to increase it by an additional $200 next year, increasing the maximum amount to $5,550, and to increase the maximum grant by the inflation rate plus 1% ever after.
The President also highlighted his plans to reform the student loan system by providing only direct loans to students. He hopes to eliminate the middleman by extinguishing the Federal Family Education Loan Program (FFELP). Through FFELP, lenders receive subsidies for every loan they make. If a student defaults, the government pays the lender 95 cents for every dollar owed on the loan. President Obama believes that switching to 100% direct lending will save more than $4 billion a year.
Cutting the FFEL program would contribute financially to the plan to grow Pell Grants, meaning more students get more money. The President's pro-Pell attitude will make higher education accessible to about 8.5 million Americans.
Every semester, Fastweb helps thousands of students pay for school by matching them to scholarships, grants and awards for which they actually qualify. Sign up today to get started. You'll find scholarships like the Course Hero's $5,000 Scholarship, and easy to enter scholarships like Niche $2,000 No Essay Scholarship.
---