Colleges >> Browse Articles >> College Visits
Tour Stanford University on Fastweb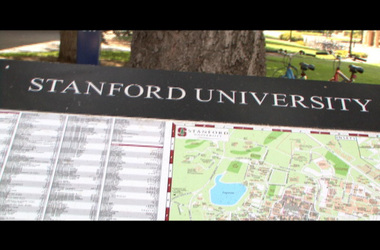 Never leave your home for a college tour when you can tour Stanford University on FastWeb.
Have you ever wanted to explore a campus from your living room couch? Now you can! Fastweb and YOUniversity TV are teaming up to make the college search process easier for students and parents. We know you have a busy, demanding schedule and sometimes, college visits simply aren't feasible, especially if the college is far away.
First, check out the school's profile below. At the bottom of the page, click on the name of the school to see the campus for yourself!



Location: Stanford, California
Enrollment: 6,700
Tuition: $35,000 In- and Out-of-State Tuition
Room & Board: $11,000
Region/Type: Suburban/Private
Financial Aid: According to The Princeton Review, 77% of undergraduates receive need-based financial aid
Campus Life: According to The Princeton Review, there are 600 registered student organizations on campus
Sports: Division 1—Team: Cardinals
What Students Say: According to The Princeton Review, Stanford students say:

Students insist that Stanford is "the most amazing school in the country, with a great mix of academics, athletics, and weather," and it's hard to argue with them. The school really does offer it all to the laid-back-but-ambitious crowd lucky enough to receive an invite to attend; as one student puts it, "Stanford essentially disproves the theorem that if it sounds too good to be true, it probably is." Undergrads here "can and are able to do so much." Take, for example, the anthropology major who reported "great opportunities such as researching over the summer in the Peruvian Amazon and working with the Center for Ecotourism and Sustainable Development to create a network of indigenous leaders interested in ecotourism." Or the myriad of super-curious here who extol "the many interdisciplinary majors: human biology; history, literature, and the arts; materials science and engineering; symbolic systems; science technology and society; public policy; modern thought and literature; urban studies.… It's amazing how many different fields you can combine." And perhaps best of all, "there is not any counter productive cut-throat competition. Staff and students are all very supportive of each other, and it's really an environment where you can explore and succeed."

Check out Stanford now on Fastweb!

---