Returning Students: Finish Your Undergraduate Degree
By Susan Aaron, The Learning Coach
September 03, 2008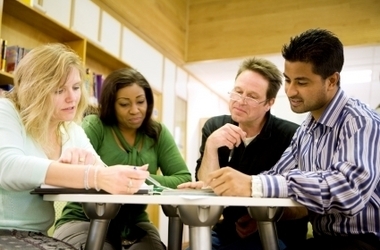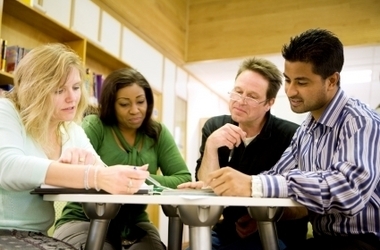 Life on a college campus is a relatively carefree time for students entering from high school. But there's a more stressful side to campus life for transfer or returning students — many in the midst of career changes and some with families — who enter with partial degrees from other schools or completed preliminary work at a community college.
Shelly Brown, transfer services counselor at the University of California, Irvine (UCI), helps these students sort out campus life. And after you read Brown's history, you'll understand why she's so qualified for the job.
Learning to Build a Career
"I was 29 years old, getting divorced, and I'd never gone to college," Brown says. "I had three kids. I just knew there was no way I would have much of a future. I had other jobs that were decent, but they would never pull me out of — not working poor, but just barely getting by. I didn't want to depend on having to get married again to support my kids."
Brown enrolled in a community college and moved her family in with her mother. After earning her associate's degree in two years as a full-time student, Brown transferred to UCI and completed her degree in three years while working part time.
More Learning Stories
As a counselor, Brown hears many reasons why prospective students want to complete their degrees. Sometimes a pivotal event leads them to make a change. Some who left school develop a need to return and finish what they started. Some students, Brown among them, want to set an example for their children about education's importance. Others feel they're "missing out on something intellectually."
"Most salient is that people are finding they can't progress in the jobs they want, or they can't make any more money unless they have a degree," Brown says.
Financial Hurdles
Many universities understand the needs of returning and nontraditional students and have developed ways to accommodate them.
Housing: Brown used UCI's housing for students with families.
"I was able to get an apartment on campus that was significantly below market," she says. In Brown's case, the savings totaled about $1,000 each month, making it possible for her to work part-time while studying.


Subsidized Daycare:

Students can find infant-toddler care, preschool and after-school programs inside UCI's family housing area.


Financial Aid:

"A lot of reentry students have no idea how much money is out there," notes Brown. She recommends visiting financial aid and transfer offices before enrolling to understand what they can do for you. She also recommends applying for all the scholarships you can — a strategy that let her attend school for five years and leave with only $5,000 in debt.
Other Worries
Academic Schedule:
Be prepared to work differently. Brown explains that in school "you never feel like you're done." Older students tend to be very focused and therefore have a hard time adjusting to the lifestyle.


Unusual Burdens:
Even with three kids and no spouse to lean on, Brown sees students whose hurdles are higher than her own. "If your life is extremely complicated outside of school, you probably need to fix some stuff before you can focus" and complete your degree, she says.


Fitting In:
"When you see people involved in the fraternities and sororities…living in the dorms…going to the dances, you don't see students like me," she says. Still, she felt very welcomed and accepted by younger undergraduates. Brown says that her living arrangements, her classes and an association for transfer students all helped her meet other students whose college experience mirrored her own.
Brown's learning process was very rewarding. The ultimate cheerleader for completing college, Brown outlines some major benefits for those returning to campus: "We typically do better in college. We're more serious. Professors love us."
Many nontraditional students have gone on to more fulfilling careers or graduate study. Indeed since her graduation, Brown has been working full-time as transfer services counselor. Starting this fall, she'll continue that job part-time while starting classes for a graduate program in psychology and social behavior.
Need money to pay for college?
Every semester, Fastweb helps thousands of students pay for school by matching them to scholarships, grants and awards for which they actually qualify. Sign up today to get started. You'll find scholarships like the Course Hero's $5,000 Scholarship, and easy to enter scholarships like Niche $2,000 No Essay Scholarship.
---