Colleges >> Browse Articles >> Grad Schools
Graduate School Application Deadline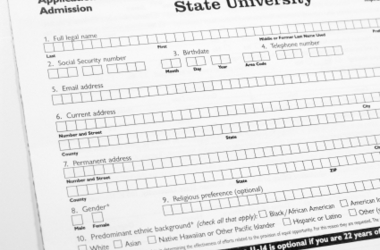 A good plan is essential to getting into your top choice graduate school.
By Chris Diehl
March 09, 2009
Fall Semester, Second Term, Senior Year:
Draft your statement of purpose.

If you're having trouble with structure or what to write, ask your academic advisor or graduate student services office for assistance.

If you feel comfortable doing so, ask for help from one of the professors drafting your letter of recommendation.

Follow up with professors about your letters of recommendation. Don't be pushy, but don't let them forget their obligation to you. Send a thank-you note if your professor has already submitted his or her letter.

Send in your transcripts. Remember that this process can take up to a few weeks. If you've waited until now to submit your transcripts, confirm that your final fall grades will be included.

Know the due date of your grad school applications. A few may have arrived already. Double-check you've made arrangements to include all requested items in each application.
Spring Semester, First Term, Senior Year:
Fill out the

FAFSA

after January 1.

Filling out the

FAFSA

early is critical, as many colleges give out aid on a first-come first-served basis.

Submit your applications. Before you drop them in the mail, make copies of all materials in case you have to resend them. Send your applications via certified mail to verify delivery. Many schools send a receipt letter or postcard after they receive your application. If you don't get one from a school to which you've applied, follow up with that school.
Prepare for your admissions interview. Practice beforehand, if possible. Your college may offer a resource to help you prepare for these types of interviews.
Take a deep breath, slowly exhale. Once your applications have been submitted, things are generally outside of your control. Continue to concentrate on your undergraduate studies.
Spring Semester, Second Term, Senior Year:
Arrange a visit.

In March and April, you'll begin to hear back from schools.

A visit to the campus may mean the difference between choosing a school or not.
Make your decision! Inform the school in writing (or via the school's preferred method) that you have decided to attend. Don't agonize over this process for too long; you don't want to lose a potential spot because you took too long to respond. Also, take time to inform the schools whose acceptance you have declined.
Say thank you. Send thank-you notes to those who assisted in the application process: professors, advisors, the registrar—they'll want to hear your quest to enter graduate school was a success!
Need money to pay for college?
Every semester, Fastweb helps thousands of students pay for school by matching them to scholarships, grants and awards for which they actually qualify. Sign up today to get started. You'll find scholarships like the $2,000 "No Essay" Scholarship from Niche, a scholarship open to all U.S. students and those planning on enrolling within 12 months.