Colleges >> Browse Articles >> Grad Schools
Graduate School Application Deadline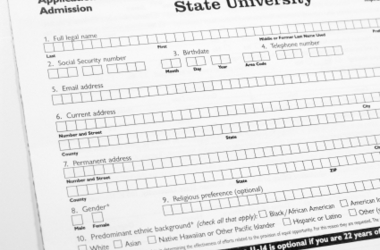 A good plan is essential to getting into your top choice graduate school.
By Chris Diehl
March 09, 2009
A good plan is essential when applying to graduate school. Use FastWeb's timeline to help you find out what you should be doing and when you should be doing it.
Junior Year:
Keep your grades up.

Don't allow your plans for graduate school to take your mind off of your first priority: success in your undergraduate courses.

Your grade point average (

GPA

) will be considered in the admissions decision.
Understand which standardized test to take.

If you plan to go to medical, law or business school, it'll be a no-brainer.

Other programs may ask you to take the Graduate Record Examination (

GRE

).

If you're not sure, ask your prospective graduate school.
Research graduate programs.

What do you want out of a grad program? If you're stuck, ask your academic advisor, favorite professor or graduate student services office for advice.

Visit the school's Web site, review course offerings, read professors' biographies (pay attention to their specialties and check if they match your interests), and tour the campus.
Figure out how much graduate school will cost.

Assess the cost of tuition, fees and living expenses.
Reinforce relationships with your professors.

Not sure whether your favorite professor even knows your name?

Make an appointment to chat about a current project, a homework assignment or your career options.

A strong relationship with a professor now means a more compelling recommendation letter later.
Summer Before Senior Year:
Begin the application process.

Find out when applications will be available and when they will be due.
Study for standardized tests. Imagine the stress of studying for a standardized test.

Now imagine trying to study for that test with a full undergraduate workload and social calendar.

Make good use of a quiet summer schedule.
Narrow your school choice.

Decide which schools are the leading candidates. Reserve at least one or two back-up schools, in the event you don't get into your first choice.
Request transcripts.

Registrar offices are inundated with transcript requests in the fall, so a late summer request will beat the rush and leave some cushion in case a problem arises.

A drawback to requesting this early is that your fall semester grades won't be on them.
Fall Semester, First Term: Senior Year:
Check application deadlines. Deadlines start to come up in the late fall.

Create a calendar with the deadlines of your prospective schools.

Note how many letters of recommendations are required.
Request letters of recommendation.

Decide who will write your letter(s) of recommendation.

Your decision may hinge on the type of program you want to enter; for example, a professor might have a specialty in the area your prospective graduate school is known for.

No matter who you choose, give your professors plenty of time and include additional materials in your request to guide them, such as your transcripts or a draft of your statement of purpose.
Check the other application requirements.

Your application may require additional transcripts or a résumé.

If you need assistance, ask your academic advisor, professor or graduate student services office.
Take your standardized test. The same test-taking skills that helped you succeed on the

SAT

and

ACT

can help you on your grad school exam.
Search for scholarships and financial aid.

FastWeb has many graduate-level scholarships in its database.

Also check out loan or fellowship options with your prospective graduate colleges.
Need money to pay for college?
Every semester, Fastweb helps thousands of students pay for school by matching them to scholarships, grants and awards for which they actually qualify. Sign up today to get started. You'll find scholarships like the $2,000 "No Essay" Scholarship from Niche, a scholarship open to all U.S. students and those planning on enrolling within 12 months.