Colleges >> Browse Articles >> Choosing a College
Fall 2012 Must-Dos for High School Students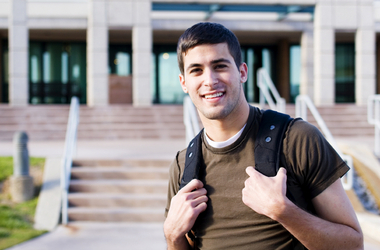 Check out what you need to get accomplished during your first semester.
By Kathryn Knight Randolph
August 17, 2012
High School Juniors
You would think that the senior year would be the most scrutinized during the college admissions process, but you would be wrong about that. Admission officers are really looking at the junior year. After all, when you submit your application as a senior, they only have a few months to look at; whereas the junior year provides a bigger, better picture.
This first semester, focus on the SAT and ACT. Start practicing with sample tests. Read literary classics for reading comprehension and for examples to draw from in your writing prompts. And on that note, write – a lot. The more you write, the better it gets. Journal each day – or just write letters to friends. Either way, practice, practice, practice.
Begin compiling a list of colleges you're interested in, if you haven't already (the perfect place to keep your list is right here on Fastweb – check out My Colleges). Throughout the semester, research these schools online, and it's not too soon to even check out some of these campuses in person.
Also, make sure you have a little variety to your list. Don't pick five schools that you "might" get into. Pick a school that is a reach for you as well as a school that's a "sure thing." Fill in the rest of your list with colleges that fall in between those two.
Check out your new scholarships and apply today.
High School Seniors
Ok, high school juniors have a lot of work to do, but that doesn't mean you're off the hook. At this point in the game, you need to give yourself that list-minute boost that enables you to stand out from the rest of the applicants. That means performing better than you ever have in classes and being a proven leader through your extracurricular activities.
Though you've done a lot of the foundational work during your high school career, now is the time to shine. Make campus visits to the schools you really love. Show them your high level of interest by sitting in on a class, meeting with an admissions officer and even staying overnight in one of the dorms. Admission officers aren't just looking at grades and SAT scores at this point; they're also looking for committed students.
Finally, get organized with your applications. Deadlines occur as soon as October so reach out to teachers for letters of recommendation now. Find essays that accurately reflect your writing style or begin working on a designated college application writing sample. Put the finishing touches on your visual arts portfolio if you have one. Essentially, make sure you have every component, and that it has been looked over with a fine tooth comb to ensure that admission offices are receiving a perfect application from you.
And for everyone out there, regardless of your grade level in high school, begin your scholarship search now! Don't wait until spring semester of your senior year. There are plenty of scholarships with deadlines in the fall, and remember, it's never too soon to start your scholarship search.
What else do you have on your to-do list for this fall?
---