Course Selection: Myths and Realities
A student gives a first hand account of college course selections: myths and realities.
By Ariana Finlayson
July 31, 2007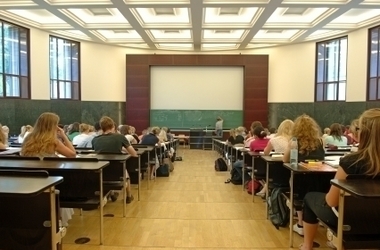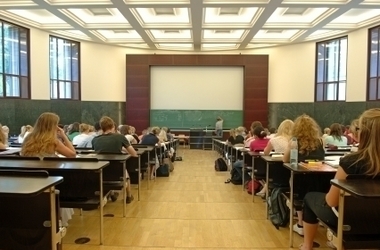 When I pictured college, I thought of hardcover textbooks, highlighters, gallons of coffee and living in the library. In my undergraduate years, I personally have yet to experience this. (But for the record, my friend in law school experiences all of the above!)
I pictured college being so academically driven, I would be spending time with nothing other than class material. The professors would be stone-faced and arrogant, the lectures droning and serious.
Let me tell you: my experiences have been nothing like the above. My professors are engaging and helpful. The classes don't drag on like I assumed they would. In fact, most of my classes have been discussion-based. This is great because it keeps you on your toes and alert to what other students are saying. I've gotten more out of discussions than any textbook.
Turn your passion for art into a career with these art schools.
At Hofstra, there are a certain amount of classes you need to take to fulfill your humanities requirement, in addition to your major and minor. I have known some students who chose to take all their humanities at once. This is a bad choice in some cases because then you're left with classes all relating to your major.
What if you have an intensive major like engineering or finance? You'll end up getting very overwhelmed by taking all your major classes together, so it's good to buffer the difficult ones with the easier ones. For me, taking three journalism classes all at once is difficult because they all require an in-depth, heavily-researched story by the end of the semester, and more writing throughout. That's a whole lot of writing!
I suggest that when it comes to classes not in your field of study (like in your humanities requirement), don't overdue yourself. I came in as a freshman and took pre-calculus and chemistry. Those two courses gave me such a rough time my very first semester, and I ended up almost losing my scholarship because my GPA wasn't up to par. Don't hesitate to speak to an academic adviser if you're worried or having a difficult time—that's definitely something I regret.
In addition to my academic load, I would squeeze in a two-credit class like "Fitness for Life" and "Hatha Yoga." I've also taken a one-credit "Stress Management" course. It's usually an easy A (and a great GPA booster!) and also, your gym and wellness time is scheduled into the day already. That means that there are no excuses for napping through your intended workout!
I'll tell you one thing: www.ratemyprofessor.com is an okay site as a reference, but don't base your decisions solely on those reviews. Think about what you want to get out of your class. If a professor is tough, and you're up for the challenge, register. Bonus points if it's a tough professor in your major. You'll sweat all throughout the semester, but the skills you will acquire will benefit you farther in the end.
See your most recent scholarship matches now.
Example: I took a Public Speaking class my junior year and I looked at www.ratemyprofessor.com to guide me to an awesome professor. I chose one who was considered "easy, helpful, funny, and animated." Though she had great reviews, I could barely sit through 55 minutes with the woman—she was incredibly annoying! She talked about herself the entire time, was very unorganized, and her grading policy was easy, but extremely unclear. She also played favorites.
That goes to show you that sometimes, a person's interpretation can be different than your own, and also professors can be annoying! Go figure!
Just remember that as a first-year student, you need to take into consideration that you're new to this business. Whether you go to college five minutes away from home or three thousand miles away from home, you are still going to go through some stress. Don't cause more problems for yourself by loading up on heavy classes your very first semester. It's all about balance.
Need money to pay for college?
Every semester, Fastweb helps thousands of students pay for school by matching them to scholarships, grants and awards for which they actually qualify. Sign up today to get started. You'll find scholarships like the Course Hero's $5,000 Scholarship, and easy to enter scholarships like Niche $2,000 No Essay Scholarship.
---