Being There: Musings on Campus Visits
A student shares her college visit experience.
By Ariana Finlayson
August 23, 2007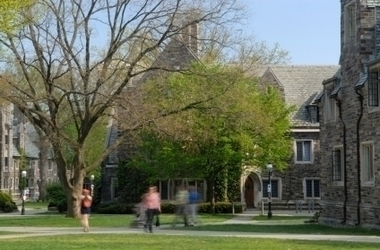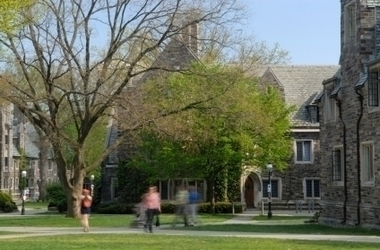 I'll never forget the feeling I got as I walked onto Hofstra's campus. It felt like a match made in heaven.
Before visiting Hofstra, I had originally wanted to attend Syracuse University. I had considered Syracuse for its journalism program, and learned about it through a writer who I had shadowed at my town's local newspaper. Syracuse looked great on paper-even a bit intimidating (which I liked)!
But I am really happy I made the trek to upstate New York to visit Syracuse. This is where I'd like to stress the importance of actually stepping foot on a campus before making a decision. I'm friends with many students who are happy with their college decision without having ever seen the campus beforehand, and that's lucky and fortunate.
After we had completed our tour of Syracuse, my mom and I headed down to Hempstead, New York, to visit Hofstra. On the way, we made a wrong turn off the highway and ended up in the middle of a not-so-nice area where our car started overheating! After piecing together directions from four different gas stations, we finally made it to Hofstra.
You can't win scholarships if you don't apply. Start now!
My mom and I were worn out from our trip, but made it to the admissions office where we were greeted by one of the friendliest counselors I have ever met. Her sunny disposition matched the vibrant grounds that we explored during our tour. When we headed home that day, while I had been considering other colleges, I finally knew where I wanted to spend my four years.
Why? The campus visit itself made all the difference, and I'll tell you how:
• First impressions count: For one, the tour guides at Hofstra made my mom and I feel at home. I know that may sound cheesy, but they answered all of our questions very naturally, took the extra step to find minute details, and sought out professors in the School of Communication for me to speak to. The tour guides seemed like people I could get along with.
• Meet people up close: While walking through campus, I paid close attention to the student body. I looked at how they dressed to go to class, if the library was filled to the brim, and if the students looked content in campus places like the Student Center and outside patio areas. A happy student body can tell you a lot about their quality of life. Plus, I didn't want a campus where students only studied or only partied. I wanted a balance.
• A major decision: I had a feeling I wanted to study print journalism, but I wasn't completely sure. I still had broadcast journalism and TV/video/film in the back of my mind. I preferred Hofstra's program because it was easy to switch between majors in the designated school. When looking at schools with your intended major, look to see how the academic programs are structured: Will it be difficult to change your major? If you do decide to change your major, will the school make you re-apply to the university or that specific college?
• The brochure/Web site can only tell you so much: I wanted a campus that had a "campus feel." I didn't want a campus that was intertwined with the outside community. I wanted to be near New York City, but not in it. And I wanted the campus to be beautiful. Luckily for me, Hofstra met all the prerequisites. Be picky about your campus because those are the grounds you'll have to see day after day!

Learn how AP classes can help your college application.

• Safety matters: Also, I wanted to feel safe. And I did. Your campus shouldn't make you uncomfortable. If you don't ask, I'm sure your parents will, so definitely bring up campus safety to your tour guide.
• A little campus flavor: My friend went to a small state school where the food wasn't all that great, the dining halls had designated meal times, and the food places on campus closed at 9 p.m. Hofstra had a Sbarro that was open until 2 a.m., a 24-hour convenience store on campus, and almost 17 places to eat on campus. To me, that was the bomb. When you visit, check out the price, quality and dietary options. For example, our dining services have a large selection of kosher, organic, vegan and vegetarian options, and even a small macrobiotic menu.
You can't get many of the above things by looking at the school's Web site, speaking with a rep at a college fair, or looking at pamphlets. You need to experience it yourself. Think of the admissions process as you would think of buying a new car, looking for an apartment, or trying on a new piece of clothing. With all, you need to have that tangible experience to make a decision.
Need money to pay for college?
Every semester, Fastweb helps thousands of students pay for school by matching them to scholarships, grants and awards for which they actually qualify. Sign up today to get started. You'll find scholarships like the Course Hero's $5,000 Scholarship, and easy to enter scholarships like Niche $2,000 No Essay Scholarship.
---