Colleges >> Browse Articles >> Choosing a College
Compare Your Campus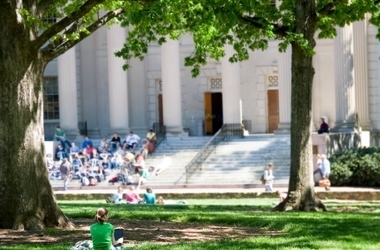 Learn from other students' college search experiences.
Fastweb members share their schools!
The size and location of your campus can make a big difference on your college experience. Fastweb users attend all types of schools—from big urban universities to small rural colleges. They share what they love about their schools.
— "I attend Nebraska College of Technical Agriculture in Curtis, NE. This is a small school maybe a bit over 200 students, it's in the little town of Curtis population of 700 some without college students included. This little town is nice and quiet so it allows you to concentrate on what you need to and offers a beautiful campus. You always feel part of a group because everyone waves at you and says hi." —Jerica Collins, Nebraska College of Technical Agriculture
—"My school is pretty big, with over 23,000 people. The town we sit in only has around twice that many in its own population … There are things for ANYONE to do here, clubs for anything from Environmental Awareness to the University Program Council that's in charge of bringing national music acts, comedians, and shows to campus, and anything in between those two … I've met people from all over the world here." —Kaylin, Auburn University
Share your opinion in our discussion forums.
—"I chose to go to a small college of 600 students. The reason that I chose to was because I did not graduate from a large school so I was intimidated to attend a large college. The college that I chose was Clearwater Christian College. The pro's are you have relationships with your teachers and you know almost everyone in your class so it is more personal." —Sara Brod, Clearwater Christian College
— "I love the fact that I live in New York City to attend college so I get more of a cultural learning experience then say a state college in New Jersey, where I am from … My college experience isn't a typical one, the city helps me become more independent and ready for the "real world" which is actually better than the whole college party scene." —Jennifer Kachler, School of Visual Arts
— "I attend college at Marshalltown Community College in Marshalltown, Iowa. Our school is next to a natural large field of green grass, adjacent to the baseball fields. It is beautiful. Our school is a small school, but there is definitely a lot to do around here. I know everyone's names and my classroom sizes are small and personable." —William Wolgamott, Marshalltown Community College
— "What I like most about being in the heart of Kansas City is the wide variety. University of Missouri Kansas City is a school with a variety of people from rich to poor, and black to white to Muslim, and Hindu." —Kevin Brimer, University of Missouri-Kansas City
Get more advice on choosing a college that's right for you.
"The Fashion Institute of Technology is set in the middle of Manhattan. It [is] relatively small … the campus is only one city block long. Class sizes are only about 20 kids … It's definitely not the typical campus bubble. It does make going to school harder … But I see it as a growing experience." —Kirsten Fiebelkorn, Fashion Institute of Technology
— "I attend University at Albany (SUNY) in Albany, New York, of course. There are about 17,000 that attend this university. I find it exciting because there are always new faces to see, you never know everybody, so there's always a new friend to make somehow, someway … Also with larger schools there are so many clubs and organizations, and so many more possibilities. It is also good to have more guys around. (lol)" —Cassandra, State University of New York, Albany
— "I am a public communications major and the internship opportunities here made choosing this small college one of the best decisions I have made. I also like the small campus—you get to know the professors really well—hey, a few have become really good friends. For me, I feel like I have found a 2nd family—have made a lot of new friends from all over the US." —Enga Almeida, Columbia Union College
---