Career Planning >> Browse Articles >> Networking
Professional Associations: Make Connections to Make a Career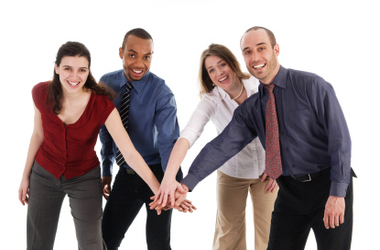 Professional associations help make connections to make a career.
By Kay Peterson, Ph.D.
June 03, 2008
Developing your career plans? Tap into a career network by joining a professional association in your field of choice. Many associations offer special services and membership rates for students, and through the association's programs, you can learn more about the field and develop relationships with established professionals. Check below to find the right association for you.
Accounting
American Institute of Certified Public Accountants 1211 Avenue of the Americas New York, NY 10036 (212) 596-6200 (212) 596-6213 (fax) http://www.aicpa.org/
American Society of Women Accountants 8405 Greensboro Drive, Suite 800 McLean, VA 22102 (800) 326-2163 (703) 506-3265 (703) 506-3266 (fax) http://www.aswa.org/
Advertising
The American Advertising Federation 1101 Vermont Ave. NW, Suite 500 Washington, DC 20005-6306 (202) 898-0089 (202) 898-0159 (fax) http://www.aaf.org/
Architecture
American Institute of Architects 1735 New York Ave., NW Washington, D.C. 20006 (800) 242-3837 202-626-7547 (fax) http://www.aia.org/
National Organization of Minority Architects c/o School of Architecture and Design Howard University 2366 Sixth Street., NW Room 100 Washington, D.C. 20059 (202) 686-2780 http://www.noma.net/
Broadcasting, Journalism and Writing
American Society of Journalists and Authors 1501 Broadway, Suite 302 New York, NY 10036 (212) 997-0947 (212) 768-7414 (fax) http://www.asja.org/
American Society of Newspaper Editors 11690B Sunrise Valley Drive Reston, VA 20191-1409 (703) 453-1122 http://www.asne.org/
National Association of Broadcasters 1771 N Street, NW Washington, DC 20036 (202) 429-5300 (202) 429-4199 (fax) http://www.nab.org/
National Press Photographers Association 3200 Croasdaile Dr, Suite 306 Durham NC 27705 (919) 383-7246 (919) 383-7261 (fax) http://www.nppa.org/
National Writers Union 113 University Pl. 6th Fl. New York, NY 10003 (212) 254-0279 (212) 254-0673 (fax) http://www.nwu.org/
Computer Technology
The Association of Information Technology Professionals 401 N. Michigan Ave., Suite 2200 Chicago, IL 60611 (312) 245-1070 (312) 527-6636 (fax) http://www.aitp.org/
Association for Women in Computing 41 Sutter Street, Suite 1006 San Francisco, CA 94104 USA (415) 905-4663 http://www.awc-hq.org/
Education
American Counseling Association 5999 Stevenson Avenue Alexandria, VA 22304 (800) 347-6647 http://www.counseling.org/
American Federation of Teachers 555 New Jersey Ave, NW Washington, DC 20001 (202) 879-4400 http://www.aft.org/
National Association of Secondary School Principals 1904 Association Drive Reston, VA 20191-1537 (703) 860-0200 http://www.nassp.org/
Engineering
American Council of Engineering Companies 1015 15th St, NW Washington, DC 20005 (202) 347-7474 (202) 898-0068 (fax) http://www.acec.org/
American Institute of Chemical Engineers 3 Park Avenue New York, NY 10016-5991 (212) 591-7338 http://www.aiche.org/
American Society of Civil Engineers 1801 Alexander Bell Drive Reston, VA 20191-4400 (800) 548-2723 (703) 295-6222 (fax) http://www.asce.org/
American Society of Mechanical Engineers 3 Park Avenue New York, NY 10016-5990 (800) 843-2763 http://www.asme.org/
National Society of Professional Engineers 1420 King Street Alexandria, VA 22314 (703) 684-2800 (703) 836-4875 (fax) http://www.nspe.org/
Society of Women Engineers 230 E. Ohio St., Suite 400 Chicago, IL 60611 (312) 596-5223 (312) 644-8557 (fax) http://www.swe.org/
Human Resources
Employee Assistance Professionals Association 2101 Wilson Boulevard, Suite 500 Arlington, VA 22201-3062 (703) 387-1000 (703) 522-4585 (fax) http://www.eapassn.org/
Society for Human Resource Management 1800 Duke Street Alexandria, VA 22314 (703) 548-3440 (703) 535-6490 (fax) http://www.shrm.org/
Pharmaceuticals
American Association for Pharmaceutical Scientists 2107 Wilson Blvd., Suite 700 Arlington, VA 22201 (703) 243-2800 (703) 243-9650 (fax) http://www.aaps.org/
International Society for Pharmaceutical Engineering 3109 W. Dr. Martin Luther King, Jr. Blvd. Suite 250 Tampa, FL 33607 (813) 960-2105 (813) 264-2816 (fax) http://www.ispe.org/
Psychology
American Psychological Association 750 First Street, NE Washington, DC 20002 (202) 336-5510 (800) 374-2721 http://www.apa.org/
Public Relations
Public Relations Society of America 33 Irving Place New York, NY 10003-2376 (212) 995-2230 (212) 995-0757 (fax) http://www.prsa.org/
Sales and Marketing
American Marketing Association 311 S. Wacker Dr., Suite 5800 Chicago, IL 60606 (800) 262-1150, (312) 542-9000 (312) 542-9001 (fax) http://www.ama.org/
National Association of Sales Professionals 11000 N. 130th Place Scottsdale, AZ 85259 (480) 951-4311 http://www.nasp.com/
National Field Selling Association 1900 Arch Street Philadelphia, PA 19103 (215) 564-1627 (215) 564-2175 (fax) http://www.nfsa.com/
---