Networking Know-How
By Elisa Kronish
March 12, 2013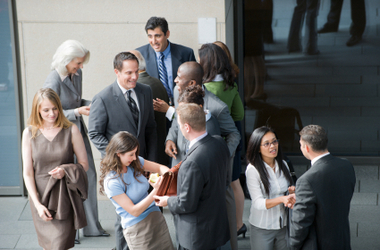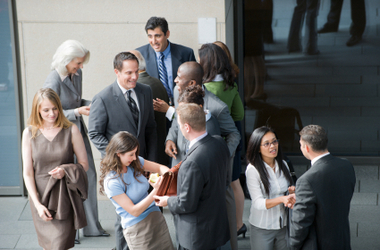 Networking is more important than ever when it comes to landing a job.
You may think that networking is for corporate types, not for college students. But you're wrong. According to one Wall Street Journal survey, 94 percent of respondents said networking was their primary job-search method. As the saying goes, "either network or not work." So where do you start as a college student?
1. Compile a list — Make a list of everyone you know, from your hairdresser to your professor, from your Aunt Beatrice to your car mechanic. Everyone has their own network; one of your hairdresser's clients just might be the executive of a company you'd like to work for.
2. Review the list — Prioritize the names according to a criterion that works best for you. For instance, you may feel more comfortable approaching contacts who are closer to your own age or who are at the beginning stages of their careers. Start with this group, and then work up to calling contacts outside your "comfort zone."
3. Create strategy sheets — Fumbling for words while networking can spell disaster. Script out what you plan to say in advance. Start with two basic elements: who you are and why you are calling. Quickly summarize your background and explain how you found this contact. Don't say, "I want a job." Instead, say "I'd like your advice about opportunities in engineering in the local area," or "I'm exploring this field and I'd like some advice." Practice beforehand with your written script, but keep it natural: During the call, use your script as a reference, but avoid reading straight from it.
4. Get on the phone — The phone is the best way to start networking. Start by hitting the points on your strategy sheets and then ask for a brief meeting. If your contact is unable to meet, ask for additional contact names. If you reach voicemail, use your strategy sheets to leave a message. Set a goal of making a certain number of calls each day.
5. Prepare beforehand — Decide what you want to discuss and prepare meeting notes. Jot down your strengths, achievements, goals and any questions you have. If you are meeting to learn about a company, do some research (the Internet and the company's public relations department can help) and prepare questions.
6. During the meeting — Use your notes to guide your questions and keep the meeting on track. Take notes during the meeting if it seems appropriate. Don't be shy about asking for additional references. As a rule, try to get at least two other names and numbers from each contact you meet.
7. Follow up — Afterward, send a handwritten thank-you note. Keep a record of your meeting, noting whom you met, what you learned and any additional references you received.
8. Keep in touch — Once you have a job, write all contacts a brief note to let them know what you're doing. And remember, networking is a two-way street: Let your contacts know you will provide them with help in return whenever possible.
Need money to pay for college?
Every semester, Fastweb helps thousands of students pay for school by matching them to scholarships, grants and awards for which they actually qualify. Sign up today to get started. You'll find scholarships like the Course Hero's $5,000 Scholarship, and easy to enter scholarships like Niche $2,000 No Essay Scholarship.
---