Career Planning >> Browse Articles >> Career Outlook
How to Travel on a First Job Salary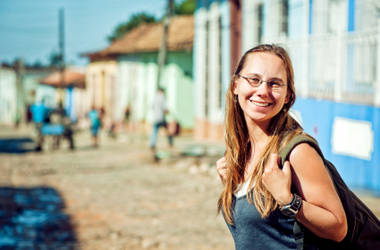 See the world while you're young and on a budget.
By Lauren Bayne Anderson
July 15, 2011
The best time to travel is when you're young. Seeing the world changes you—and helps shape your world view.
When you're young, traveling is less about "vacation" and more about experiencing culture. Most likely you don't have kids to worry about or a mortgage to pay. But…it's expensive. And the catch is that most young people don't have a lot of extra money to put toward travel.
So, how do you travel on an entry-level budget? It is possible.
It won't be luxurious – you won't be staying in 5 star hotels—but you will get to see the world, experience the culture, taste the food and bring back tons of pictures and souvenirs to show your future kids and reminisce over for years to come.
Backpack: The term refers to buying a super huge backpack into which you stuff everything you need (from sleeping bag to clothes) for weeks of travel. It's easy because you don't have tons of bags to lug around. Everything is right there on your back! Plus your hands are free to hold maps, drinks and everything else you need to find your way around a new city.
Book early: If you're planning a trip, book your flights early and do your research. Check sites like www.kayak.com for their fare calendar, which shows you which days are the cheapest travel dates and compares several websites.
Don't spring for the Eurail ticket just yet!: If you're backpacking around Europe, you've heard countless people tell you to buy a Eurail train pass. But it's not always the best option. Europe has tons of low cost airline carriers that can get you there for cheaper and save days worth of travel time. For example, British airline Ryanair has flights from Paris to Barcelona for 20 Euros, including tax—that's $30! They offer flights around France, Spain, Germany, Italy, the Netherlands, even Morocco and more! And there is more than one European low cost carrier—so check them out before you book your train ticket. Europe is not the only place with low cost airlines—be sure to research your location and you may be surprised.
Book hostels: Don't let the movie scare you, hostels are a cheap alternative to hotels and most of them are pretty safe. Think of a hostel like a dorm—you'll be sharing the room with several other people and you'll have access to a shared bathroom down the hall. There are lockers to keep your stuff secure and many even offer free breakfast in the morning. The best part is, you can book a night at a hostel for around $15 depending on where you're staying. Make sure to book in advance if possible—some hostels are much nicer than others. Do your research online, read traveler reviews and look at pictures. Then book the one you're interested in, because like hotels, they do book up fast, especially during busy seasons.
Have one good meal in every city: Food can get expensive, but it is part of the culture you're there to experience. Instead of dining out every night, select local "hole in the wall" places—they often have great, authentically local food and are super cheap. Eat from street vendors (that look clean) and buy snacks from grocery stores. But do allow yourself at least a couple of nice meals at nice restaurants. If you're traveling for an extended time, a good idea may be one nice meal in every new city. You'll get the flavor of the country without going broke.
Don't be afraid to travel alone: None of your friends can take time off work and you feel like if you keep putting it off, you'll never live out your dream of backpacking around Thailand, or Europe, or South America. Our advice? Don't let that stop you! Get on a plane and go. You'll find you're not the only young travelers traveling alone. You will meet friends and the best part is, when they start to get on your nerves, instead of fighting about it, you can just split up! Trust us: Many a best friend has learned they can't stand traveling together

AFTER

they were two weeks into a trip. And we promise, traveling alone will not be anywhere near as lonely as you think.


This article was originally posted on Monster College.

---