Back to School >> Browse Articles >> Dominate Your Dorm Room
Redecorate Your Dorm Room on a Dime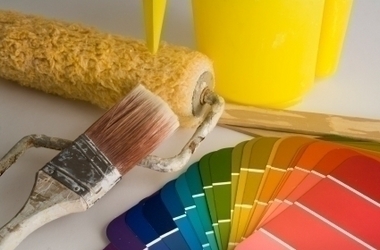 Turn student quarters into a home without breaking the bank.
Whether it's your first dorm or apartment, college pads are the epitome of self-expression. But, as a student, you probably need to discount your interior design dreams with practical décor.
"Since you are probably going to enter a small room with white walls, your goal is to decorate and save space," says Marie Bailey, Office Depot's family organization expert. "Look for stylish, multi-functional items, like study desks with shelving and rack raisers that can hold up your bed and give you extra storage space."
Your own private castle
Since your bed is one of the largest pieces of furniture, the color palate of your comforter could set the design theme for the entire room. This may be your most expensive purchase, or you could bring the one from home and spend your cash on accessories instead.
"Your bed is your castle," says Mindy Greenberg, principal of Encore Décor an interior design firm in New York City. "It's where you do your homework. It's where you eat. It's where you sleep. It's where you entertain your friends, therefore it tends to get stained and dirty. Since nobody really likes to do wash, denims and darker colors are better for dorm living."
Need a quick bedside table solution? Amanda Williams, spokesperson for Springmaid Home Fashions, suggests visiting a flea market or yard sale for bargain furniture.
"You can replace the knobs, add a coat of paint or create an antique look with a few brushstrokes," Williams says. "You can also create a living space on your floor with a stylish accent rug. Place floor pillows on the rug and settle in with classmates for a study group or friendly chatter."
See the latest in student life news here.
Posters are the most affordable solution for brightening those stark walls. With art and pop culture posters selling for as little as $7 online, you can give your dorm a new look without breaking your budget.
---